Flashes of Darkness Year 2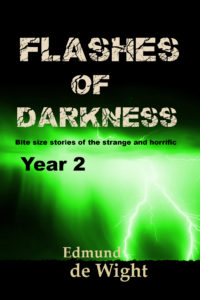 No time to read? Bite-sized flash fiction is the prescription.
Year 2 of this collection brings you even more horrors and strange events to haunt your dreams.
Ghosts, ghouls, demons, aliens, monsters, and things that go bump in the night fill the pages of this volume. Each flash fiction story is the perfect prescription to fulfill your daily recommended quota for the strange and macabre.
If you're in a rush, waiting in the doctor's office, ten minutes from the next train station; this is the collection for you. Each story was written to be read in a matter of minutes, the perfect bite-size stories for our hectic, always moving world.
Flash fiction is extremely short fiction. It stands out for its brevity, often as little as a few words to as many as 1,000 words or so.
You can get it at multiple retailers

PURCHASE YOUR E-BOOK DIRECTLY FROM US